MUSCLETECH – REAL SCIENCE. REAL RESULTS!
Unflinching commitment to science and research as a means to producing the best supplements in the world has been the backbone of the #1 Selling Bodybuilding Supplement Brand in America since the emergence of MuscleTech™ supplements back in 1995. To continuously research, develop, patent, produce and market the most effective diet and sports supplements in the world. – Team MuscleTech mission statement Today, MuscleTech is a brand name synonymous with premium-quality, top-of-the-line products that span more than a decade, including Nitro-Tech®, Cell-Tech™, MASS-Tech®, just to name a few. The top-tier development of these supplements has established a proud legacy, and this legacy stands unmatched amongst competitive companies in the supplement industry.
RESEARCH BUDGET
A portion of every dollar spent on MuscleTech™ supplements is allocated towards funding scientific research to discover new and more effective ways to help increase lean muscle mass and strength, reduce bodyfat and improve athletic performance.
PATENT-PROTECTED PRODUCTS
We are committed not only to industry-leading research and development, but also to protecting our discoveries with numerous patents which help to ensure that other companies do not make, use or sell our patented MuscleTech formulas. The end goal of this is to make your decision crystal clear when it comes to choosing a trusted MuscleTech supplement over poor-quality copycats available on the market.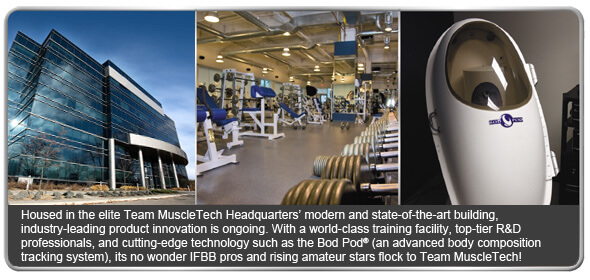 The Bod Pod® trademark is a registered trademark of Life Measurement, Inc.
OUR COMMITMENT TO PROVIDING THE BEST SUPPLEMENTS IN THE INDUSTRY
Groundbreaking, high-quality supplements have been created, over 30 U.S. and 50 worldwide patents have been acquired and tons of professional athletes and bodybuilders have flocked to Team MuscleTech™ for researched and scientifically advanced formulas. From the industry-leading in-house research labs to the fully loaded in-house gym facility at the elite company headquarters, there's no doubt that the innovative MuscleTech™ brand has been developed in an environment that breeds success. As a result, you can rest assured that providing you with the highest quality supplements in the world is a Team MuscleTech promise.